A #BellevueHero: Melissa Townson
Stories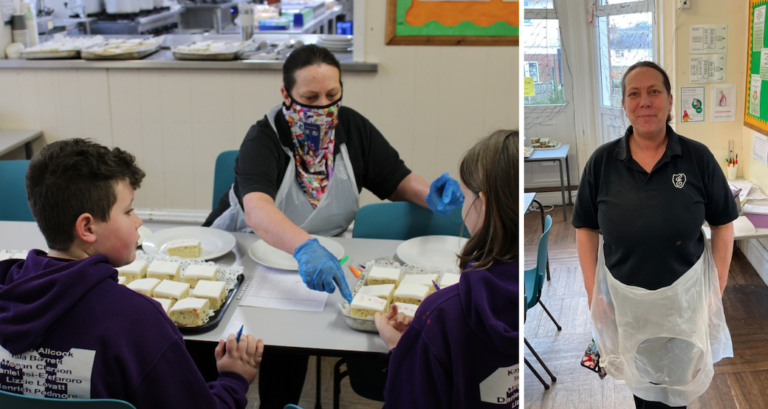 This month's #BellevueHero, nominated for her passion and dedication to her role as Catering Manager, is Melissa Townson at Edenhurst Preparatory School, Staffordshire. 
Melissa's impressive experience includes working at the famous Gleneagles and the Savoy, as well as volunteering at the London 2021 Olympics. But it's her work with the children of Edenhurst which brings her endless joy.
'Melissa is a great cook, but her real strength is her passion for people and children in particular,' says Headteacher Mike Hibbert, who nominated her for her positivity and calm commitment to her role. 'She genuinely listens to children – the most valuable skill required in schools.'
Melissa joined Edenhurst in September 2018, after working as Director of Catering at St Bees School in Cumbria.
'It was just after a move from the Lake District that I spotted the job at Edenhurst,' Melissa reminisces. 'It seemed like a mini version of St Bees – I was drawn to the school.'
'Melissa smiles EVERY day,' says Mike. 'She always has time to talk to the children. And she always patiently answers the question, "What is for lunch today, Melissa?", at least 100 times each day.'
Cooking has always been in the family for Melissa.
'My grandma had a tea room in Rye, where she taught me how to bake,' she explains. 'I practiced everything from scones to cakes there.'
In her catering career, Melissa has trained at the highly renowned Gleneagles Hotel, Perthshire, and worked as Assistant Back of House Manager at the Savoy Hotel in London. 'I was taught an important lesson by a manager in my training,' she humbly shares, 'to treat everyone the same, no matter their appearance. This has stayed with me ever since.'
Melissa gained a Certificate in Education from the University of Central Lancashire in 2010. Here, she received the Tim Curtis and Partnership Award for her outstanding work. Impressively, she studied her degree whilst working full-time in her Director of Catering role.
Melissa was also an Environmental Health Volunteer in the London 2012 Olympics – in fact, she was given the Longest Volunteer Shift Award for her hard work on the scheme. 'It was amazing,' she tells us. 'I was lucky to see 10 gold medal wins, including wins from Mo Farah, Usain Bolt and Chris Hoy.'
Outside her work, Melissa is a fan of the outdoors.
'I used to own a 17-acre smallholding the Lake District,' she tells us. 'I used this as a rescue shelter for animals, but also to host the Workaway Scheme – an exchange opportunity for budget travellers and language learners to stay with families all over the world.'
What has been her favourite memory at Edenhurst?
'There are far too many happy memories at Edenhurst for me to be able to share them all here,' Melissa says. 'But the one that sticks out is the way in which we adapted, as a result of the pandemic, to make the school leavers' last summer feel really special.
'We made hampers, with little bottles of fake champagne, and put them all out on the field. We really wanted to make that leavers' day matter.'
Melissa explains that while she doesn't have a favourite dish, she loves being creative with new recipes and refreshing the menus every week.
'For World Maths Day, for example, we created cakes with puzzles on them. They had to solve the puzzle before they ate the cake!'
Is she ever challenged by the different adjustments she has to make for different diets?
'Trying to get ahead – to stay on top of different dietary trends – can be challenging,' Melissa says. But Headteacher Mike Hibbert comments: 'Melissa goes out of her way to make the food our children request and enjoy. Vegetarian, vegan, gluten-free, allergies: all no problem at all. She is completely unflustered when staff (usually me) make last minute catering requests.'
Melissa gets the most enjoyment from her daily chats with pupils.
'Without a doubt, my favourite thing about working here is the interaction with children,' says Melissa. 'Just getting to know their likes and their dislikes; any feedback from them, I love. We've even set up questionnaires, so if they don't like things, they can tell me immediately!'
Visit our Stories page to meet more #BellevueHeroes.