#BellevueHeroes: The TAs of Wandsworth
Stories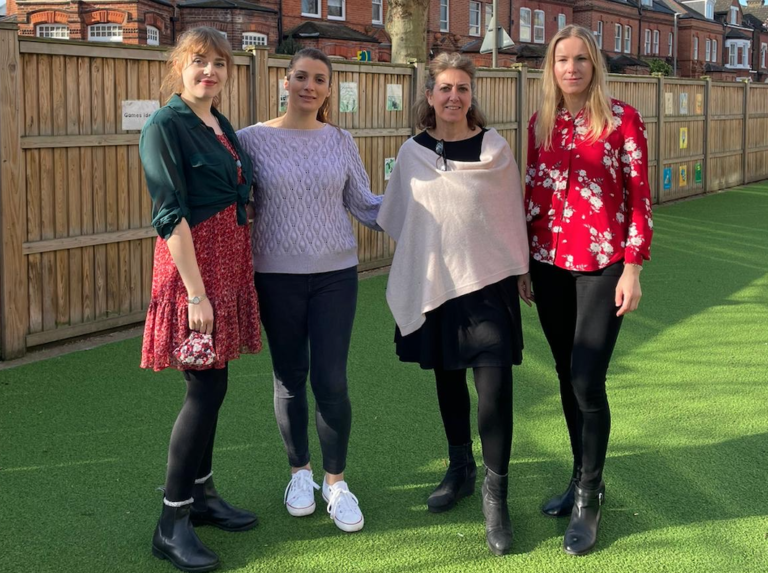 Highlighting the great work of Wandsworth Preparatory School's Teaching Assistants (TAs), we take a moment to celebrate all TAs across the Bellevue Education Group, who have been an invaluable support to our teachers both during and post-lockdown.
Teaching Assistants work tirelessly to support both teachers and pupils, facilitating learning; dedicating extra time to pupils who might need additional support; supervising breaks and school activities; and even sometimes running after-school clubs.
In Bellevue Education schools, classrooms offer a high teacher-pupil ratio, with pupils receiving generous one-to-one support from their teachers. On top of this, Teaching Assistants offer support on the ground, noticing any pupils who may be struggling, and responding to questions as the teacher leads.
In creating this tribute, we asked Wandsworth Preparatory School Headteacher Jo Fife what a brilliant Teaching Assistant looks like, and why their work is so vital.
'You can't run a school without good TAs,' says Jo. 'They are the lifeblood of a school.
'I think the best TAs are the ones who care endlessly about children, and pick up on children's moods. They are the 'eyes and ears' of a teacher; when teaching a group, they can spot smaller interactions and any possible challenges.'
Teaching Assistants across the Bellevue Group went above and beyond by supporting teachers throughout the lockdown experiences of the past year, with many back in school to support the children of key workers.
'Throughout the challenging start to this year all schools across the country faced, our terrific TAs were an incredibly dedicated support to our teachers and the school community,' adds Jo. 'Because of their extraordinary 'can do' attitude during lockdown, class teachers were able to focus on the main task of preparing and delivering engaging and interactive lessons, knowing that all children, key worker children and those at home, had the same high level educational experiences.'
So, what makes a good TA stand out even more?
'They need to have bags of initiative. With teachers being so busy, they really need a TA in their classroom who notices and acts. And we have four who do that here, all the time, in bucketloads. They observe, they notice, they report back.'
Stephanie Overington, Zola Sokoli, Nicky Almond and Eliza Drazka (above from left), the four Teaching Assistants of Wandsworth Preparatory School, all have special areas of interest and experience which inform their roles. 'It's the school's job to find out what its TAs love to do, and what their skill sets are,' says Jo.
Personalised support
Nicky Almond, who lives locally to the school and brought up her three children enjoying the library the school site is based on, recognises the importance of personalised support.
'Two of my children are dyslexic or dyspraxic, so I look out for children with similar experiences in the school,' Nicky says. She offers personalised support after school to revisit phonics, sentence building and other skills that have been taught to these pupils in class, going above and beyond to deliver the outstanding learning experience Bellevue schools are renowned for.
'The school is the hub of Wandsworth for me – a home from home.'
Making a school a home
Eliza Drazka, who has worked at Wandsworth in voluntary and TA capacities for five years, found the school fulfilling a similarly homely role during the pandemic.
'As an extrovert, working with the key worker children in the last lockdown actually saved me mentally,' she reveals. 'I am here on my own as my family is in Poland. Working at Wandsworth gave me a purpose in life; coming to work every day, seeing colleagues and the children, really helped me.'
She uses her language learning skills to inspire pupils, setting an example by explaining to pupils how working hard at learning – even as an adult – pays off.
'I'm very passionate about language learning, because I experienced this challenge myself when I moved here from Poland, 13 years ago,' explains Eliza.
'When you come to a different country, you feel completely lost. But when I support children for whom English is not their first language, I explain to them that they are not alone. I hope they are thinking, "if Miss Eliza got there, I can get there one day."'
Bringing back play time
Stephanie Overington, approaching her first full year at Wandsworth, was keen to re-introduce play to the school's young pupils following the lockdown periods.
'A lot of children have not been able to have many play dates recently, so they are desperate for that interaction. I see the Wandsworth playground as a club that everyone is invited to.
'If I see children struggling to initiate a game, or looking upset, I will rustle up a group of people and get them started on playing a game. My eventual goal is to be able to take a step back, so hopefully the children will have the confidence to initiate a game with others who might appear isolated or sad.' Giving children this opportunity to develop independence is a key facet of the Bellevue learning experience.
Jo adds that the TA role is not what it used to be.
'The work of TAs was originally less intensive; display making, admin… it isn't that now: it is all-encompassing. And in any lesson, a TA will always be working directly to support an individual or a group. The role has changed, and perhaps the title should change to reflect that.'
Getting out and about
Zola Sokoli, who is in her third year of working at Wandsworth, used the school's Forest School curriculum to further encourage socialising following the national lockdowns.
'Since the remote learning period, one of our pupils became very anxious about going to Forest School on Fridays,' says Zola. 'So every Thursday, I sat with her and talked about what would be happening the next day, to alleviate those nerves.'
Zola's supportive intervention – typical of the 'eyes and ears' work Jo talks about – worked a treat: 'Last week after Forest School she said, "I had the best day ever."'
Wandsworth giving back
'I think the measure of a school is how much appreciation and value you give to your TAs,' adds Jo. 'The tremendous expectations of their role today mean that they should be treated with the utmost respect.'
'I have worked in several other schools,' says Zola, 'and Wandsworth is one of the best I have ever worked in. Everyone here generates positivity into the school, the children and each other. The first day I walked in, I felt I had been here all my life.
'At Wandsworth, you are valued for who you are and what you do.'
Wandsworth Preparatory School is part of the #BellevueFamily. Visit our Find a School page to meet more of our family members.