#BellevueStories: Alice Smith, Teacher
Stories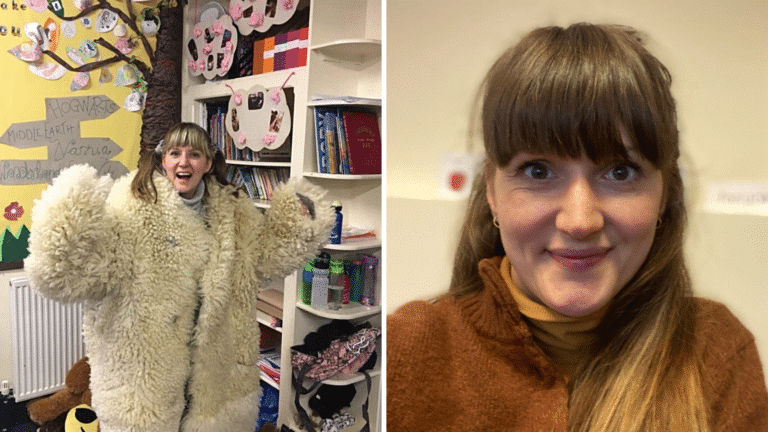 This month, we're telling the #BellevueStory of Skippers Hill teacher, Alice Smith.
Following a recent house move from London to Sussex, Alice switched from teaching at Norfolk House School, in Muswell Hill, North London; to Skippers Hill Manor Preparatory School, in Mayfield, East Sussex. Both are part of the Bellevue family of schools.
'I was at Norfolk House for four years – I joined in 2016,' Alice tells us. 'I got a job as a Year 4 teacher following a role as a Year 6 teacher at another school in Hackney. I was Head of Assessment, and then took on a maternity cover role as Head of Senior Prep, before moving to Year 2 and Head of Junior Prep.'
When her partner was offered a role at Brighton College, the pair moved down to East Sussex. Alice now takes on the role of Reception Teacher (Maternity Cover) at Skippers Hill Manor Preparatory School.
Sam Selby, Bellevue Education Director and former Headteacher at Norfolk House School, recommended Alice to Skippers Hill Headteacher, Phillip Makhouli.
'I grew up around here, around the Lewes area, so I know it really well,' says Alice. 'Especially in these times, it's really nice to be back in the countryside.'
Alice taught pupils as young as Year 1 as part of her PGCE (teacher training), but has never taught children as young as Reception age before.
'I'm already really loving it! I love the creativity behind it, and making your environment a place for children to really explore their learning.
'I can already see that Skippers is a school that really encourages that. It was the same with Norfolk House – both schools have let me be the teacher I've wanted to be. If you want to take pupils outside, or turn your classroom into a weather-reporting station… [you can explore] anything to make it better for the children. I've really felt that from Bellevue schools.'
Of her time at Norfolk House School, she fondly remembers putting on theatre productions, such as Mary Poppins and Annie; as well as supervising activity camps. 'One funny moment I recall fondly is when a child brought a chicken to show-and-tell via Google Meet! That was quite a surprise!
'Another memory that stands out is a time when we took a group of children to the beach, and some had never been before. We went rock pooling and were amazed by the surprise and excitement when a Year 6 boy, in my class, saw a crab for the first time! We couldn't believe he had never seen one before – he found it hilarious, and so did we!'
Alice says she has been supported by Bellevue Education through the Group's professional development opportunities, such as its Emerging Leaders scheme and group meetings regarding assessments across its schools.
'I feel really fortunate to be able to stay in the [Bellevue] Group.' She adds that she would sum up the Group as 'inquisitive'.
Alice tells us she always wanted to be a teacher. Her mother was a playgroup leader, so she grew up surrounded by other children and helping her mother out.
'I'm really looking forward to the children coming back [into school, on 8 March],' she adds. 'Loads of teachers have been talking to me about how they do gardening, woodland exploring and Forest School [with the children]. I've always been really interested in Forest School – I think it's such a fantastic initiative – so I'm really excited.'
Any tips for aspiring teachers?
'Organisation!' enthuses Alice. 'I always draw a 4 grid for my to-do list, and prioritise each square. For example: '1. Urgent', '2. A little bit urgent', '3. Not that urgent' and '4. Not really very urgent at all'. Then I move each thing forward as I prioritise it over the week, and as I tick them off. I think it helps me to not feel so overwhelmed when there is lots to do!
And the best thing about teaching?
'I just love getting children excited about learning. No two days are ever the same.'
Visit our Stories page for more #BellevueStories.